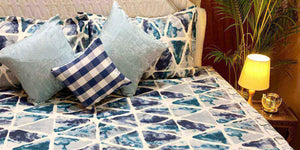 Discover a curated collection of bedding essentials
Home is
where your heart is!
dohar | mattress protector | bedsheets | duvet and duvet covers
An expression of identity
400TC | 300TC | 200TC | SINGLE AND DOUBLE BEDSHEET
Trance Home Linen
Started in 2007, Trance Home Linen is based on a passion for high quality Bed Linen to reach customers at affordable prices. Fourteen years on, it is deeply entrenched in both offline and online platforms, serving customers across India including Corporates, Hospitality industry and repeat customers who believe in us. And the products - all Made in India!
Read More
Product Promise
-Customising our products to suit your requirement.
-High Quality Products made from best sourced fabrics.
-Offer our products at affordable prices.
-Ethically sourced and manufactured.
Simply put, we offer products you can trust
Shop
Customers Love Our Products
55000+ Reviews
18000+ Reviews
★★★★★

Superlike-
"I have tried few mattress protectors earlier but found this one to be best among all others. I appreciate the efforts of seller in delivering me a customised one suitable for my bedsize which fits perfectly. The best thing I would like to quote is that it has a cotton towel like outer surface which keeps the bedsheet in position and the inner waterproof surface serves the purpose."


October, 2018.
Customised Mattress Protector

– Neha
★★★★★

 Excellent Buy -
" I bought this in 2016 April for my King size mattress, it has been 2 years and still does what it's supposed to do. The mattress underneath is still new regardless of many liquid spills and my kids leaking in bed a couple of times. Washed it many times in washing machine over the past two years, the waterproof layer is intact and does NOT peel off like some cheap waterproof materials when exposed to detergent liquids or
sunlight.

May, 2018.
Mattress Protector

– Naveen
★★★★★

Need Custom Size Mattress? Ask Trance Home Linen. They will make it within 24 hours as per your size.
"…… and this looks awesome now. This was my 2nd Custom Size Mattress request to Trance Home Linen and like the past experience, once again they accepted it and made my required size within 24 hours of placing the order."

August, 2017.
Customised Mattress Protector

– Mr Sinha
★★★★★

Value for Money, Thick and Soft Fitted Bedsheet.
"Except for the light colour the bedsheet was perfect. Even though mattress was 12inch thick the customised fitted bedsheet was a good fit. It was quite soft and thick and much better than the other brands we purchased parallely at 3 times the price."

November, 2020.
Customised Fitted Sheet

– Rohit
★★★★★

10000% the Best Sheets in the Market
"This is by far the best sheet I've ever used. The quality and fit is so good…value for money is always go to, I am so happy with the quality of the cloth it feels so rich and comfortable….this is exactly what I had in mind before going ahead with the order. Anyone looking for good quality well fitted sheets this is your go to place."
November, 2018.
Bedsheets

– Nikita
★★★★★

Full Size, Pure Cotton
"Good value for money, the product is 100% Cotton, full size and light weight. Despite being light, it keeps your warm. 5 out of 5 Stars. Note here, the seller took the initiative to contact me to inquire if the product has reached me  by safely. That's what you call – customer care."
February, 2019.

Dohar


– Certified Buyer
★★★★★

Beautiful Combination of Colours !
"The fabric is pure cotton…exactly what I was looking for. Plus point is the beautiful color combination of yellow and grey which looks so vibrant and elegant at the same time! So it's totally worth the price …Just go for it!!"
February, 2019.
Dohar

– Pratishtha
★★★★★

Lightweight, Soft, Comfortable, Correct Size for two, Durable, Machine Washable
"Buy this since others were heavy and good for harsh winters. This one is lightweight, soft, comfortable, correct size for two, durable and machine washable. Value for Money and worth buying."
May, 2021.
 Dohar

– Ravishankar
★★★★★

Doesn't feel warm (like woolly or blanket-ish) which is important for sub-tropical India
"If possible, I would have rated you 6 stars. Very satisfied with the product. Excellent absorption capacity. Keeps my child dry throughout the night. And most importantly doesn't feel warm (like woolly or blanket-ish) which is very much a required property for sub-tropical Indian consumers. Planning to buy one more for my Dad who is bed-ridden, so that we can reduce the use of diapers of him. Thumbs up and kudos."

April, 2019.
Baby Dry Sheets

– Bikramaditya
★★★★★

Beautiful Design and Good Quality
"Very soft and perfect size for my six month old son. Beautiful design. Quality is upto point."

April,2021.
Baby Dohar

– Sushila